I have a confession.
I am addicted to buying real estate. Being addicted to real estate is probably a healthy addiction yet, as with any addiction, an addiction to buying real estate does have its drawbacks. Here are mine:
#1. I suck at saving money just to save it.
Funding a real estate investment acquisition company is cash-heavy and requires keeping lots of money in the investment pool instead of buying new cars or other more fun depreciating assets that don't pay for themselves. Any extra cash is always put towards a down payment or rehab of a unit, as needed. Saving cash is hard, as I can always see a better way to make that money work harder than sitting in a boring savings account. I'm not one to spend money on extravagant vacations, boats, or cars yet I have no qualms about INVESTING our extra cash into an appreciating asset and often jump on an opportunity quickly. Yet, I've come to the conclusion that I should resist buying another place and keep a bit more in savings.
#2. Most people would call me a tight wad.
I look at every purchase and ask, "How can I make this pay for itself?" That's not horrible, yet I shouldn't keep making lawn businesses with my kids just because I want a new mower! Seriously, we've done that twice now! The good news is the kids can all mow yards, run a micro business, and they all have self-earned spending money. But that's an email for a different day.
#3. Lack of fun time with my kids.
And finally, the one I want to spend some time on today and am most excited about repairing is: LACK OF FUN TIME WITH MY KIDS. My kids have had more memories of weekends cleaning up houses and taking trips to the transfer station with dad instead of having fun and enjoying this amazing place we get to live in.
Having my schedule shuffled by the CV-19 Quarantine allowed me to take time to reflect on my busy life and all the busyness caused by the businesses we have created. It made me slow down enough to realize that while we look successful on paper and on the economical side of things, maybe I wasn't being as purposeful in the "dadding" department. While I'm busy building a fun rental portfolio or growing a real estate team, the kids are growing up around me and FAST! I began to ask myself, "Is it really fair to them to have to spend so much time on weekends helping dad with rental rehabs, cleaning Air BnB's, or other business-related things instead of camping or making more fun memories together?" The answer is NO.
So, what did we do about it?
I remembered a quote from Gary Keller, the founder of Keller Williams Realty. Gary said, "If it's not on your calendar, it doesn't exist." Knowing that, we simply broke out a big year-at-a-glance calendar and blocked out chunks of days to spend the energy and make the memories we've always wanted but have never planned or followed through with.

I'm super stoked to share with you that we followed through on our first memory-maker of the season last weekend and it did NOT disappoint!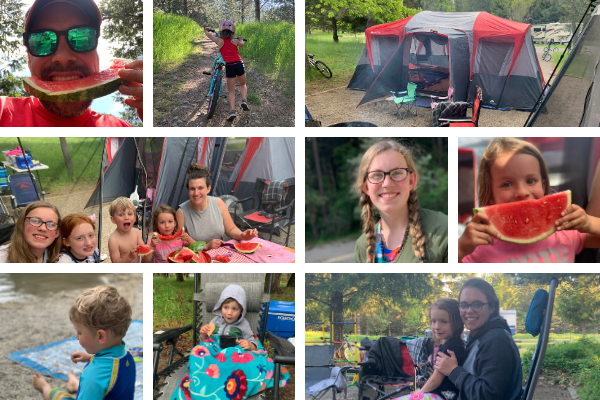 What's the point of me sharing this with my investor friends, clients, and future investors? That's a good question and I don't really know except maybe to share some positive transformation that came from the CV-19 shuffle of life.

Or, maybe me sharing my personal drawbacks of healthy addictions will spark interest in you to reflect inwardly and see if you have any negative effects of the healthy addictions in your own life that you could easily tackle…. Now I sound like a guru and that wasn't my goal here 🙂
Oh yeah, how did I solve drawback #1 & #2?
#1… We recently sold a duplex that had appreciated nicely and are now sitting on a healthy dose of uninvested cash that's boringly sitting in the savings account. That uninvested boring 'ole cash in the bank makes my wife happy and, honestly, I do sleep better at night!
And #2… You'll just have to keep calling me a TIGHTWAD… and that's something I can live with!
Enjoy the sun and this awesome Spring weather, friends. If myself or any of my team members can help you with any of your real estate needs, please reach out. Helping investors is a passion of mine and we'd be honored to help!
Take care,
JTS